home - rates - directions - faqs - other info

my rates

My skiff rates (1-2 anglers) are:
$400 ("quick trip" 2-3 hrs (a little sightseeing/ecotour/birding/flyfishing lessons or a little fishing trip, two patrons only)
$500 birding trip lasting 4 hrs
$550 fishing trip lasting 4 hrs "half day"
$650 fishing trip lasting 6 hrs "full day" (most requested as it allows me to access some spots that seasonally hold more fish)
*upon special request, an 8 hr day rate is $800

ON FISHING WITH THREE PEOPLE.
A third angler/rider is $50 additional (not recommended IF wanting to sightfish ON the shallow flats) The Skiff has a 3 people OR 450 lb rating.. So three grown men will prob not be doable, however a parent w two children may work.
If fishing with three, we will instead fish the slightly deeper channels nearby (still very calm) for sharks, seatrout, snappers, jacks and ladyfish.
If you've four or more, with a little extra time, I can arrange for a second skiff to accommodate everyone.

If we are fishing in the backcountry, you will need a Federal Park Pass. Please see below link. This is not a fishing license, (I provide that) and is required should we be stopped by a park ranger.
Park Pass information.. Only one is necessary if fishing in Florida Bay / Everglades (individual or vessel pass if 2)

These rates include your fishing license, tackle, rods, bait, flies (if flyfishing on my smaller skiff) and a cooler with ice. All you need is what you would like to eat or drink (and the aforementioned park pass if fishing in the Everglades Backcountry)
deposits...
I require a $100 deposit for each day booked.

If you choose to pay by
personal check
,
email me
and I'll return my address to send your check to.

If your charter request is last minute, ie: less than 7 days.. the charter is not secured wo a deposit.

Credit card payment
.. I utilize
PayPal
or
Venmo
or Apple Pay



PLEASE SEND $104, $100 per day and $4 Venmo fees

@Barry-Hoffman-9

Below you will find a QR code or a dropdown list for PayPal with a credit card

QR code.$104.00 ($100 deposit and $4 PayPal fees
.
Open Camera app in phone and it should open to PayPal Site.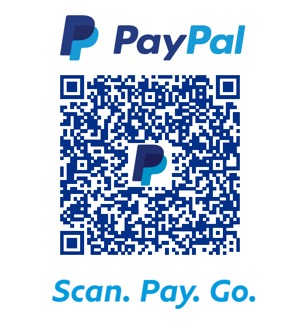 IF YOU DON'T HAVE A PAYPAL ACCOUNT, NO PROBLEM. JUST SCROLL DOWN (AFTER PUSHING "BUY NOW" BUTTON TO GRAY BOX THAT SAYS "PAY WITH DEBIT OR CREDIT CARD"
If I am already booked, you might utilize my
guide referral program
..
Some frequently asked questions. More here
IF you are planning to pay your balance at the end of your trip with a credit card, YOU MUST NOTIFY me the night before. The credit card merchant will charge an additional 4% on top of my fee. You must let me know the night before so i can bring my credit card terminal. Personal checks (drawn on a US bank), cash or travelers checks are gladly accepted for your balance w/o additional charges.

Q We have three people and want to sight fish the shallow water flats. Can you help us?
A I am unable to perform my job properly in these very small technical skiffs with the addition of a third angler. We can however fish the deeper channels and edges if we've three. . The "flats" boats are small and typically can only access the shallow water with one or two anglers. With three or more, it is best to stick to the slightly "deeper" waters of 2-3 feet and allow us to catch more fish.*
Q thought I'd call you when I arrive in the Keys to book a trip. Should I do this?
A I don't recommend it, especially if you'd like to charter with me. The better guides are booked months in advance especially during peak season and if you call me last minute, most of the guides that I would recommend, if I am booked, are probably booked as well. You'll see I get booked up in some cases, months in advance.
Q What is your cancellation policy, Do I get my deposit back?
A This is my only occupation, and I am not extraordinarily wealthy, although I hope to be some day. ;) A deposit ensures I will be gainfully employed that day. Policy is: All deposits received are held if scheduled trip is canceled without a 30 day verbal telephone notice. No exceptions. Deposits for charters that are canceled in excess of 30 days will be credited toward a trip within one year from original departure date if original departure date can be rebooked. Cancellations within 14 days are forfeited at my discretion.
Q What if the weather is bad? What is your refund policy then?
A Sometimes we may get a little rain or encounter some cloud cover during your charter. However, if the weather is dangerous, (lightening or winds in excess of 25) I will gladly refund your deposit to you. I don't care to be out in that stuff myself and am looking forward to a lengthy stay here on earth. I've actually got a nexrad radar unit on the skiff. We can track any nearby storms should there be inclement weather and make an educated decision on a path to better weather. You can expect a breeze here of 10 to 15 mph. Most of the locations I fish are protected and sheltered from the rough seas even if it blows 20 or more. If I've a day available later in the week (and better weather seems possible), and you are able to, I will try and accommodate you as best I can.
Q Gratuities? (i've tried to hide it at the bottom)
A This is an issue I hate to discuss when my clients ask me at the end of a charter, "What's a normal tip?"I offer this as a suggestion when fishing with me or any other guide. When clients ask me how much is it proper to tip your guide, I usually cringe and give them this piece of advice. First and foremost, It is most important that you feel your guide has worked hard to put you in front of fish (even though it has been totally overcast or very windy). Has he done his job of explaining the process of casting, seeing and hooking fish? Has it been an enjoyable experience out on the water? Most guides, including myself, tend to judge the quality of the experience and effort provided for the day by one's gratuity. I've received tips of $100 per day and those that have just walked off the boat. At the end of a day I tend not to look at checks written or a wad of cash handed to me to count, so as not to seem they are mandatory. I also understand the charter can be a year long savings experience for some. I can assure you, they are GREATLY appreciated. Here in the Florida Keys, where we've the highest cost of living in the state of Florida, (as well as outrageous fuel prices nowadays) they certainly help out. IF you feel you'd fish with me or another guide again, here goes.. As a rough guideline 15%, full day $105, six hrs $90, half day $55.
Thanks! I look forward to fishing with you.-- Barry